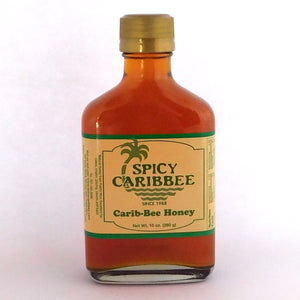 The best honey!
I ordered this for the first time along with the best vanilla extract ever! Top quality and quick delivery!
Delightful
I have been to your shop twice now while on vacation. My daughter and I love the vanilla, honey, teas and hot sauce that we have purchased there. The last time I was there in February, I decided to have you ship my order home rather than have to carry it home. I was pleasantly surprised to find that my order made it home the day after I did. I will gladly order from you again and will definitely visit the shop again the next time I am in P.R. Wepa!
Honey
Quality and taste are amazing
CherylW
Always get my vanilla from Spicy Caribbee, this order I thought I would try the honey. Delicious, lovely fruity taste. Found this store years ago. On a visit to Puerto Rico, lucky enough to be back a couple more times. But for now mail order keeps me stocked up. Things come quickly
and well packaged, quite often with a little extra surprise in the package.
Latest shipment
I was surprised to get my order so quickly! We've never before had the honey from your store…well worth purchasing. My husband really likes it. Dealing with Spicy Caribbee is a pleasure…we visited the store a couple years ago while on a cruise; unfortunately, because of Covid we haven't been able to get back…but mail order has been wonderful. Thank you for being there!
---