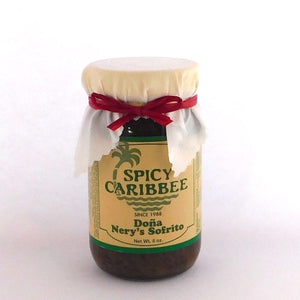 Weirdly addicitive!
We went to San Juan in spring 2019, and this tiny little shop tucked in a building across from our hotel seemed a
little cluttered with lots of spices, sauces, and a lot of "free samples." Who can resist free samples?!? Dona Nery's sofrito was one of the first we tried. It's taste is hard to describe, but it's like a bourbon tasting: Lots of nuance, a bit
subjective in what flavors we detect, but total agreement among us: Nuanced, not hot over-powering, and extremely
flavorful. It's great to add a dollop to pasta or similar dishes; a nice side condiment to veggies or meat, or superb when added to hamburgers or other sandwiches, just to name a few uses. The main problem: It disappears quickly! There are so many uses that a jar doesn't last long. I've given it to friends who loved it!! The other main problem is that other customers seem to agree, and it's sold out quickly, so best to order a couple of jars.
For those who have never been to their shop in San Juan, it's an experience!!! Almost like a tasting museum! The staff is
extremely attentive and user-friendly, the (co?) owner happened to be there when we were and gave us a detailed
lesson in spices, and just schmoozing with staff and sampling the selections is worth some extended time in the shop.
Sofrito
Dona Nerys Sofrito is excellent. Savors my dishes every time.
Always fresh and flavorful!
We have family on the island and have been visiting for many years. With the pandemic we were unable to make it the past couple years and we are so glad to have our "taste of the island" available for shipment from Spicy Caribbee. This sofrito is the best!!